Win a Ticket, Save a Life
Christmas is supposed to be a time of joy and happiness, but for many it's the most difficult time of the year. Those experiencing mental illness can often find this time of year harder to bear.
BYT's production about youth suicide prevention, Gone Tomorrow,  highlights the importance of watching out for such signs in our family and friends and assisting them to get the help and support they may need.
We are offering  ONE FREE TICKET TO EACH PERFORMANCE to the first people who contact Lisa by email : byronyouththeatre2481@gmail.com, subject: Win a ticket, Save a life.
Performances will be held at The Drill Hall Theatre, Mullumbimby, NSW on SATURDAY 9TH DECEMBER at 2pm and 6pm and SUNDAY 10TH DECEMBER 6pm.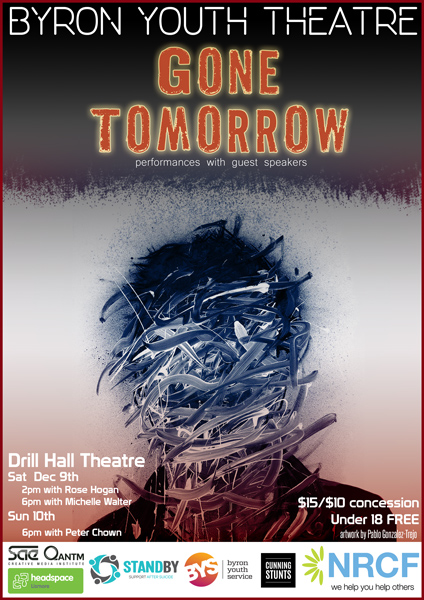 Guest speakers Rose Hogan from StandBy support after suicide service (Saturday 2pm), Michelle Walter, trauma counsellor (Saturday 6pm) and local psychologist Peter Chown (Sunday 6pm) will give a brief talk and Q&A after each performance.  Information about local services will be available.
We encourage all parents with teenage children aged 15+ to attend as well as community members as youth suicide prevention is a key concern for all.  BYT are very grateful to Northern Rivers Community Foundation for funding this project as well as a Cunning Stunts donation.  The production has been supported by Byron Youth Service, headspace, StandBy support after suicide, WayAhead, Mental Health Association of NSW and local school counsellors.
For more information checkout our Facebook Event page
Art work image: Pablo González-Trejo, Brent, 39 x 31 inches, 100 x 80 cm, 2008, Charcoal and Acrylic on Canvas